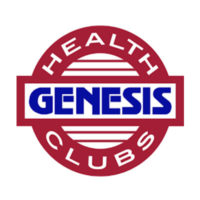 Genesis Health Clubs offer the most complete fitness experience in the Midwest! They currently have more than 40 locations in Kansas, Missouri, Nebraska and Oklahoma.
Fitness programs included in Genesis Health Clubs are: cardio, personal trainers, yoga, Pilates, weight training equipment, and group fitness classes. All Genesis Health Clubs likewise offer special amenities including child care, basketball, steam rooms, tanning, and tennis courts.
History Of Genesis Health Clubs
Genesis Health Club opened its first location in 1986 at 13th & West Street in Wichita Kansas. With Rodney Steven II, current president and owner of Genesis Health Clubs, the club expanded from a single location to over 40 locations across the Midwest.
Genesis Health Clubs offer state-of-the-art gym equipment, varied group fitness programs and customized personal training services. Club locations are open 7 days a week from 5 am – 11pm on weekdays and shorter hours on weekends.
Starting with a vision of spreading a healthy lifestyle, Rodney recognized the need for a fitness center focused on delivering results by providing quality customer service and personal attention. "Results. For Life." Is the club's motto and continues to drive all their locations to realize this vision.
Benefits Of Joining Genesis Health Clubs
As the club's name dictates, Genesis Health Clubs offers new beginnings. They offer the most well-rounded fitness experience in the Midwest that includes a collection of fitness programs, state of the art equipment and personalized member approach to help member realize their fitness goals.
Clubs offer different fitness activities to cater to anyone's needs – from light to intense workouts in either individual or group environments to alternate activities like swimming or tennis.  Additional services such as nutrition review, child care and WIFI access.
Personal Trainer Policy At Genesis Health Clubs
Personal trainers are available at each Genesis Health Club location for members that are looking for individualized programs to meet fitness goals. Interested members will undergo a fitness assessment to analyze exercise habits, history and enthusiasm for fitness. Anatomical measurements, cardiovascular fitness levels and goals are also reviewed.
Members will then go through a 4-week exercise and nutritional program custom-fitted to their needs. After this period, the trainer will conduct an assessment to review the member's achievement of stated goals. Trainers will recommend changes to the program if any.
Genesis Health Clubs Review
Genesis Health Clubs locations have up to standard fitness equipment for members use on their gym time. Generally, equipment upkeep is maintained and replacements or repairs are done if required. Issues on timely completion is experienced in some locations.
Same feedback is given on locker rooms and other amenities. Locker rooms are fitted with television sets and chairs for a more relaxed environment. The other amenities as the tennis courts and swimming pools are kept clean and well maintained.
Personal trainers are well-trained and highly motivated. They remain focused and supportive of members to meet their set programs. But some members feel that those that availed of these services are prioritized over regular members.
Working members appreciate the longer operating hours and prefers the same period to be extended to weekend schedules. Shortened weekend hours limit flexibility when most working professional are most free and pursue more out-of-work activities.
Child care facilities are a welcome feature for members of Genesis Health Clubs. Parents are rewarded with personal development time while their children are watched over skilled professionals.
Genesis Health Clubs Membership Fees / Costs
To join Genesis Health Clubs, guests need to pay an initiation fee of $150 and a monthly membership fee of $49. Additional fees will be charged to avail of nutrition specialist and personal trainer services. Packages can be arranged upon sign-up.
Genesis Health Club has both basic and premier gym memberships. Basic membership includes unlimited access to other basic club locations, enjoying state-of-the-art fitness equipment, free locker and towel services, steam, sauna and pool amenities.
With the Premier Gym membership, members have unlimited access to all club locations. Members can also avail of outdoor or indoor tennis courts, swimming pools, massage therapy and restaurant meals.
Subscription has a one-year lock-up period and cancellation before end of membership costs approximately $275. A one month notice before cancellation date is also required.
Genesis Health Clubs Guest Pass
Genesis Health Clubs have a 7-day free pass available for customers who want to try before they buy. With no obligation, guests can enjoy all the facilities for 7 consecutive days.
Guests must be 18 years old, registered town citizen and first-time visitors only to avail. The club follows a one pass per person rule only. Guests can visit as many times as they wish within the 7-day period.
Amenities / Facilities
Each club location offers a variety of fitness classes from light Yoga to intensive weight training and spinning workouts. Each class is facilitated by certified healthcare and fitness professional that provide personal support and coaching.
Club facilities feature racquetball, tennis, and basketball courts, indoor running tracks, swimming pools, dry saunas, and whirlpools. The clubs offer childcare at most locations.
Tanning services are also available for a fee. Members can either try the experience with a pay a per session fee or include a monthly or unlimited tanning package together with their membership.
Members' children aged between 6 weeks to 13 years old can also join the Kids club. Here a variety of activities are conducted by certified facilitators to suit your child's needs. Members can opt to pay a fee per visit or include this feature with their membership for unlimited visits.
For more information on Genesis Health Clubs membership and cost, visit official site.