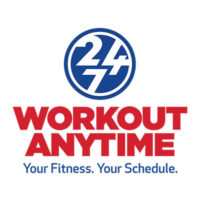 Workout Anytime is known for its unique service of being available to members at any time of the day. This is very convenient feature for those with a very busy lifestyle.
Inside are first-class gym equipment that guide users in the safe and proper way of doing exercises without the need for a spotter beside them all the time.
History of Workout Anytime
It started in the year 1999 when founders John Quattrocchi and Steve Strickland had the idea of creating a fitness club that is available every hour of every day.
Workout Anytime started in Douglasville, Georgia, Atlanta, and it gradually became one of the fastest-growing fitness centers today. It now has over 100 locations nationwide.
True to its word, you can literally workout at any time of the day, whenever it is convenient for you. Members get a card that they use electronically to open the gym after staffed hours.
Benefits of Joining Workout Anytime
The concept of a 24/7 gym is very convenient for those with a very busy lifestyle. They may schedule their exercise sessions around their office hours.
Members also get to experience the ergonomic designs of their fitness equipment. These ensure that anyone can exercise correctly and safely, even without a coach.
Personal Trainer Policy at Workout Anytime
Personal trainers are available depending on their schedule. A complimentary Success Session with a trainer at the start of the membership is included in all membership options, plus a monthly evaluation for premium members.
An additional fee of $120 is required if you prefer to have a personal coach by your side regularly. You may ask the staff for the schedule of your preferred coach at your gym.
Workout Anytime Review
Workout Anytime keeps that local, homey vibe with its friendly staff who get to know members by name and assist them in their concerns. Members also get to know each other in this small gym.
The gym caters to all adults with different fitness levels. All members are recommended to take advantage of the Success Session with the trainer to help you plan your exercise routine in reaching your fitness goal.
A good time to visit is either early morning or late at night, to avoid the crowds during rush hour immediately after work. Though the waiting time is reasonable, it can throw you off your routine if it is crowded.
Showers are provided, though you need to bring your own toiletries and towel. Wet wipes are also provided so you can wipe down the equipment for the next user.
Parking is not a problem and the gym is located near residential areas. However, there is no area for young children. This gym is only for those aged 18 and above.
Workout Anytime Membership Fees / Costs
Starting at $15 per month plus an enrolment fee of $49, you may already become a member of Workout Anytime. This includes access to all locations and a complimentary Success Session with a trainer.
At $25 per month, a premium member can bring a guest along and access the tanning and hydromassage rooms. Additional programs and privileges may be available depending on the gym's location.
However, additional fee is needed if you prefer to workout with a trainer all the time. Basic membership gets you a one-time session with a trainer, while a premium membership gives you a monthly evaluation of your fitness level.
Fees are minimal because they have a low overhead with just a few employees but owners may monitor the gym through an application on a smartphone.
Workout Anytime Guest Pass
A Premium member at Workout Anytime has the privilege to bring a guest along when they workout. A 14-day free guest pass is also available for anyone who wants to try them out.
Take note, though, that this free pass may only be used if you live near the location and is 18 years old and above. This pass may also only be used during staffed hours.
Amenities / Facilities
The fitness equipment of Workout Anytime comes from a premier manufacturer, Matrix Fitness. These equipment can be easily used by members of any fitness level safely, and is also easy to maintain.
They have equipment for resistance training and cardiovascular training. Some locations may also have the TRX suspension trainer and the Rapid Eccentric Anaerobic Strength and Core Training System or reACT.
Though workouts at the gym are mostly done alone, there is also an opportunity to join a small training group in certain locations. The MX4 Small Group Training gives members the motivation to work harder to improve their fitness level.
Additional features of the gym included in the premium package are the Hydromassage and Indoor Tanning rooms. Availability of these depend on location and may only be used during staffed hours.
For more information on Workout Anytime membership and cost, visit official site