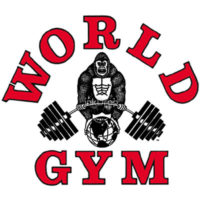 World Gym is a fitness center based in Los Angeles, California. It also has franchises in 19 countries and territories around the world. It has begun to rise to fame when popular Hollywood celebrities like Arnold Schwarzenegger had their training and workouts there.
In USA, the World Gym fitness centers are located in Arizona, Arkansas, California, Connecticut, Delaware, Florida, Georgia, Idaho, Indiana, Kansas, Maine, Maryland, Massachusetts, Missouri, New Jersey, New York, North Carolina, Ohio, Oregon, Pennsylvania, Tennessee, Texas, Virginia.
History of World Gym
The World Gym was founded in 1976 by Joe Gold in Main Street, Santa Monica. When it was purchased by the Cammilleri family in 2009, it has massively expanded having around 220 gyms across the globe.
It has become more attractive to fitness enthusiasts as it is designed to create an environment that suits the needs of ordinary people who wants to achieve their own fitness goals. This was among its primary goals according Guy Camilleri, the managing director of World Gym.
Today, 60% of the World Gym locations are based in the USA. Most of its local franchises operate 24 hours a day. However, the staffed hours may vary depending on the location.
Benefits of Joining World Gym/Why Members Like World Gym 
Members prefer World Gym over its rivals because the complete daily class schedules are available in their various locations. This gives them the flexibility to choose a particular session which they prefer to attend to. Professional trainers supervise some of the classes.
Aside from the individual membership training packages, there are also rates available for families and/or groups that will let them save a few dollars from their subscription fees.
Personal Trainer Policy at World Gym
The different World Gym locations house professional trainers with various fitness and sports certifications who assist in classes and special workout programs. These include certifications from AFPA, NFPT, Personal Training and Sports Nutrition, World Training Schools among others.
In the World Gym in Bethany Beach, there are training packages for single and group memberships. An individual session can cost $65/hr while eight one-hour individual sessions cost $400. They also have a package for eight group sessions, which is priced at $280/person. 
World Gym Review
With a 6000 square-ft Delaware club and a 3000-sq ft exercise studio in World Gym Bethany Beach, there is quite a spacious environment that can be utilized for your workout sessions and fitness training.
However, it can get a bit crowded during the after-work peak hours. Thus, it is recommended that you go earlier than those times. Nevertheless, the parking lot is not that crowded even during the peak hours.
They also offer a variety of equipment which you will need for your workout. The facilities are always clean. The locker rooms and towel services are also readily available for the gym goers.
It also has a good customer satisfaction rate. The owner is there most of the time and entertains the members and guests in a friendly way. The personal trainers do not only guide you but also motivate you to achieve ideal fitness levels.
World Gym Membership Fee/Costs
There are short term and year-round memberships which vary depending on the duration. The initiation fee for both single and family membership is $90.
The monthly due for a single membership is $38, while the monthly fees for family membership is $60 and is good for 2 persons. Each additional member will be charged $15. There are lower payment rates for senior members with an initiation fee of only $75, and monthly fees of $25.
If you are still undecided whether year-long subscription suits you, you can try the short-term membership options. The membership fees are $75, $125, and $165 for one-month, two-month and three-month membership, respectively.
With your subscription, you can have access to group fitness classes, free weights and other weight machines with the complimentary use of full locker rooms and towel services.
World Gym Guest Pass
The World Gym Bethany Beach has published the rates for their guest pass. If you are still unsure whether World Gym suits your workout needs and personal preferences, you may avail the guest pass.
You can opt for a one-day, or three-day and seven-day consecutive passes for $10, $20, and $45, respectively. They also have a punch pass which can be used by any number of persons without expiration. The 3-visit, 15-visit, and 30-visit punch passes cost $25, $115, $175, respectively.
Amenities/Facilities
In World Gym Bethany Beach, they have services which include group sessions such as Zumba, yoga and cycling. Individual sessions can also be assisted by personal trainers which you can avail for an additional cost.
They also provide amenities such as full locker rooms, towel services and tanning beds. They also target a variety of activities such as short-burst, high-intensity cardio exercises, total body conditioning, posture improvement, weight management plans, etc.
They also have a variety of cardio and strength training equipment such as treadmills, steppers, bikes, free weights and machines, cable machines, and dumbbells which can be as heavy as 150 lbs, and many more.
The membership fee allows you to attend the group sessions, use various cardio equipment, locker rooms and towel services.
For more information on World Gym membership and cost, visit official site